Attention animal lovers, did you know that there are over 1,300 species on our planet that are endangered and 467 species in this past decade which have gone extinct? However there is a way to help some of the many animals living among us by supporting Save The Uglies. Many cute animals get a lot of attention when in need such as pandas and penguins, but why not help out some of our more unfortunate little buddies as well? The Save The Uglies line of merchandise features 14 different species of endangered animals brilliantly illustrated to accentuate their unfortunate looks with bright popping colors on multiple shirts, mugs, pins, hats, and pillows. We are dedicated to raising money to help out our hideous little friends! Why not consider giving these underdogs a chance and Save The Uglies?
As you can see there are quite the selection of unfortunate looking fellas, but like every other endangered animals they also deserve some attention. These were really fun to make and I enjoyed picking the animals, but I enjoyed actually drawing them even more. The logo was also fun to make and while I had some trouble with what colors to make it, I think it turned out well.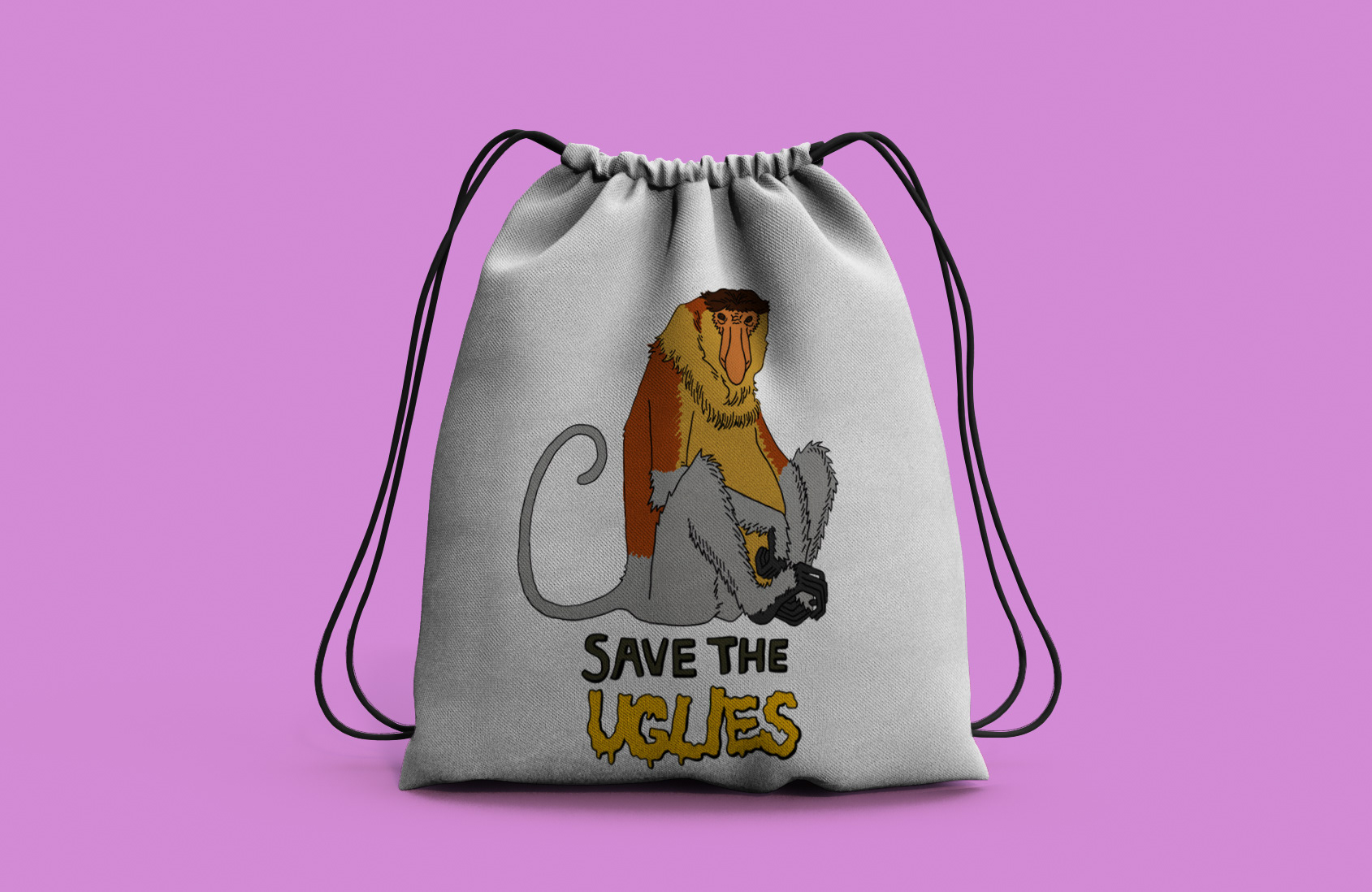 First off we have some bags! I didn't initially plan to do bags, but I really like how they turned out. I picked just a choice few animals I feel would've fit the drawstring bag best.
Secondly we have these mugs, which while they don't have the logo I feel like they still look really nice. I feel that aesthetically these and the hats still work without it.
Speaking of which the hats look pretty nice. Like before I picked only a few to make hats out of because I felt that only some would look really neat on a hat.
Next up we have pins! I really liked the idea of having the pins be close ups on some of their faces and once I tried it out I think it really paid off. This way you can get a good up close look of some of these handsome guys.
Here we have some pillows that turned out better than expected. They also accidentally became a themed pair with one being amphibian and the other being bug based. I really like how these turned out and gives people the option to get some cozy pillows with some cute little buddies on them. The next mockups however are by far my favorite.
Finally we have the shirts! I really like how these turned out and made one of each of out little buddies logo and all. The shirts really convey the logo and illustration pretty well and with the shirt being a plain white makes them pop. This was the first thing I thought up and the merchandise wanted to make the most. So much so that I actually made real shirts!
I picked only a few to print out into real shirts, but I think they turned out really nicely and tops off this project well. I had a lot of fun with this project and while at first it took a while for me to come up with an idea I think it all paid off in the end.